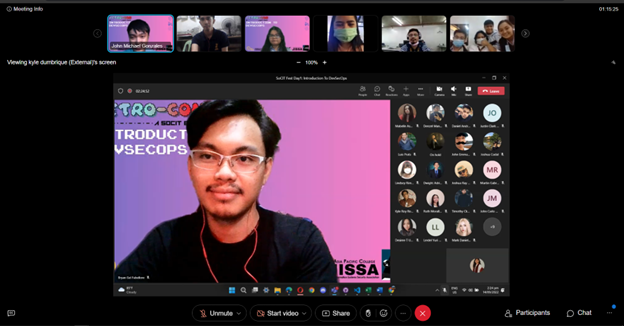 The Junior Information Systems Security Association – APC (JISSA-APC) organized a webinar called Introduction to DevSecOps, which was held last September 14, 2022 via Cisco's WebEx and Microsoft Teams. 
IBM Philippines Cybersecurity Service Delivery Leader, Dr. Renne Barcelona, Ph.D., MBA, CEH served as the guest speaker for the webinar, which aims to introduce students to development, security, and operations (DevSecOps).
Dr. Renne Barcelona started the webinar with a report on the attacks and damages to the industry because of the current threats and vulnerabilities currently exploited by unethical hackers. Because of this, he pointed out the emergence of DevSecOps, which streamlines development and operations while security is the top priority. 
Moreover, he also explained how the cycle of DevSecOps, which revolves around Develop Securely, and Secure Operations, and how these steps go hand in hand with each other.
After the lecture, Dr. Barcelona demonstrated the importance of cybersecurity and how sophisticated attacks work in today's world. He presented steganography, a technique to hide malicious files to exploit an unknowing victim. He showed how to embed a video file into a photo, simulating how an attack may work in the real world.
The hosts facilitated the Q and A sessions in which Dr. Barcelona answered the questions regarding DevSecOps and how to be a cybersecurity professional.
The program concluded with a raffle in which three of the webinar participants won prizes.