Hybrid and Virtual Graduation Orientation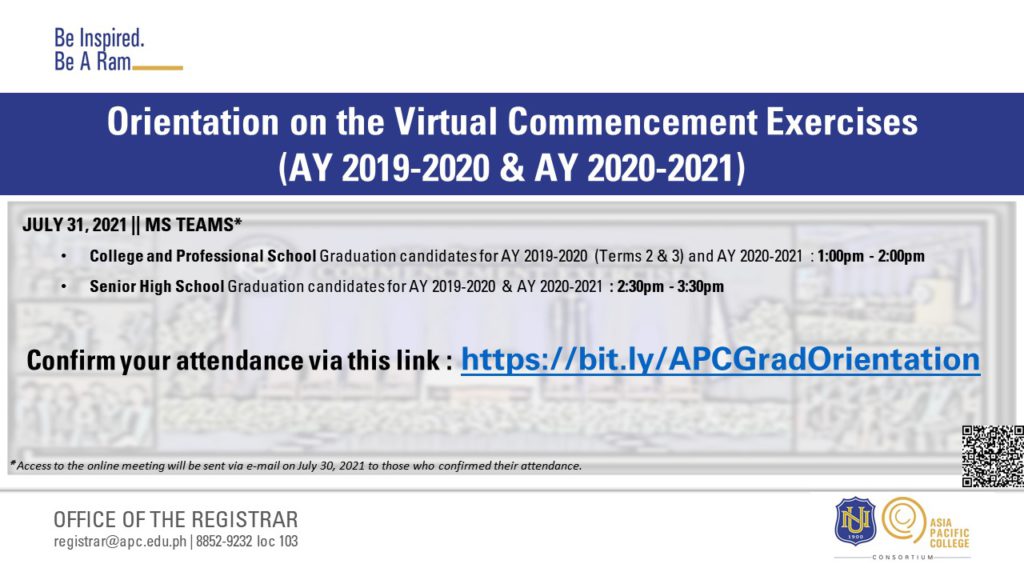 Celebrating Graduation of Class 2021
Our graduating students are especially in our thoughts during this unpredictable environment. Much as we desire to host our usual Commencement Exercises, we are in a quandary, as much as you are, if and when we can again meet for this grand celebration. Until this time, the Commission on Higher Education (CHEd) discourages in-person commencement exercises. 
Rest assured that we will guide you towards a smooth transition from school to industry life despite these difficult times. We are sharing with you the following steps that will help you make that leap from school to higher education or the workplace.
What can be applied as graduation credentials?
For graduating students (enrolled on their last term of academics), the following documents may already be requested, in lieu of the Diploma or Transcript of Records (TOR):
Certificate of Units Earned/Candidate for Graduation: With pending grades (incomplete academic requirements)
Copy of Grades: Summary of grades taken.
The online application for graduation for 3rd term AY 2020-2021 graduates will be on May 31 to June 11, 2021. Regularly check your email for further announcements regarding this.
How do we conclude Internship of Graduating Students?
Our graduating students are assigned to Industry Partners for Internship or Immersion.
For the College graduating students, we are complying with directives as indicated in CHED COVID-19 Advisory Nos. 7 and 8 issued on May 24, 2020 and March 28, 2021, respectively. Our undergraduate Interns were not deployed to industry partners. Instead, achieving the required internship outcomes is expected from the work-from-home arrangements that the industry partners allowed. At the end of the internship period, the students' Industry Professors will evaluate their performance and outputs. These are essential feedback on the readiness of your sons or daughters, our students, to resume their professional practice in industry.
Updated as of: 04/15/2021
Online Application for graduation
Term 1: October 26-November 7, 2020
Term 2: February 23-March 6, 2021
Term 3: May 31- June 11, 2021
Updated as of: 07/19/2021