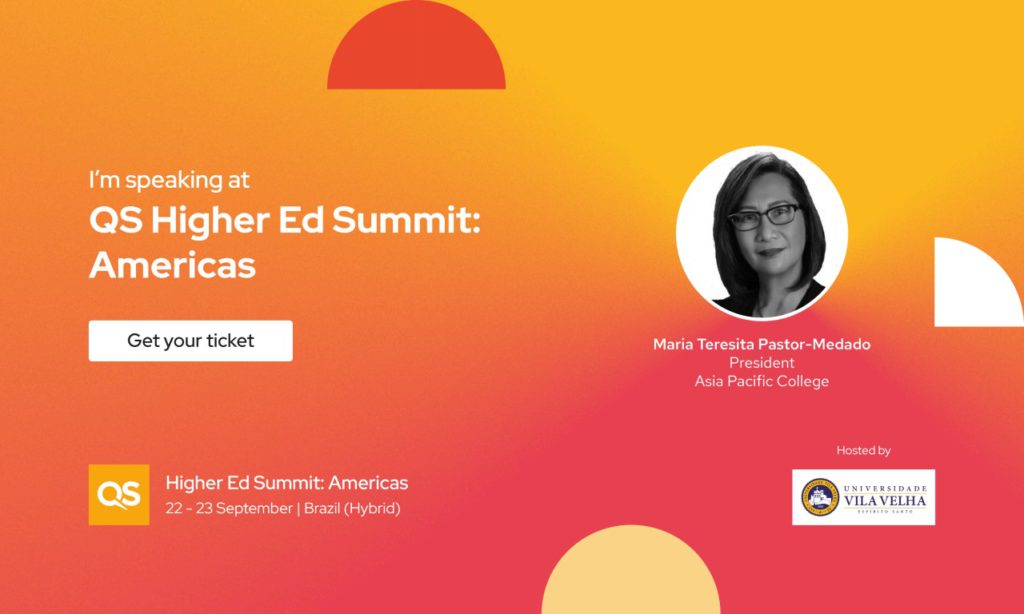 Asia Pacific College (APC) President Dr. Maria Teresita Medado will be joining as a resource speaker in the second edition of the QS Higher Education Summit Americas 2022 from September 22 to 23, 2022.
The virtual event will include workshops and interactive panels led by higher education professionals from Universidad Externado in Colombia, University of São Paulo, National College of Ireland, Universidad de Buenos Aires (UBA), and University of Lima.
Further speakers include the following:
Prof. Dr. Carlos Eduardo Sanches da Silva, General Coordinator of Academic Planning, Research and Innovation of the Board of Directors Development of the Network of Federal Institutions of Higher Education, Department of Higher Education, Ministry of Education, Brazil
Dr Elton Moura, Director of Innovation, FAPES (Espírito Santo Research and Innovation Support Foundation)
Tayana Dantas, Partner and Brand and Product Marketing Director, G4 Educação
Attending the QS Higher Ed Summit: Americas 2022 will provide attendees and participants with the tools and knowledge to become an innovator of educational technology.  
Members of APC's network are entitled to a 50% special discount on virtual and in-person conference passes. You can retrieve your pass here: https://www.accelevents.com/e/qshesamericas?discount=Speaker_Network
The discounted amount will be visible on the last step of the check out.
Maria Teresita Pastor-Medado or Tata Pastor-Medado is the President of Asia Pacific College (APC) since 2017, an educational partnership of SM Foundation and IBM Philippines. Dr. Medado is a member of the Philippine Commission on Higher Education (CHEd) Technical Panel for Teacher Education, and Chairman of the Technical Committee on Alternative Learning. Concurrently, she is Board Member and Treasurer of ARISE – Philippines and convenor for the Philippine – Women's International Network for Disaster Risk Reduction (WIN DRR). Dr. Medado holds a Doctorate in Educational Leadership and Management from De La Salle University, Manila, Philippines