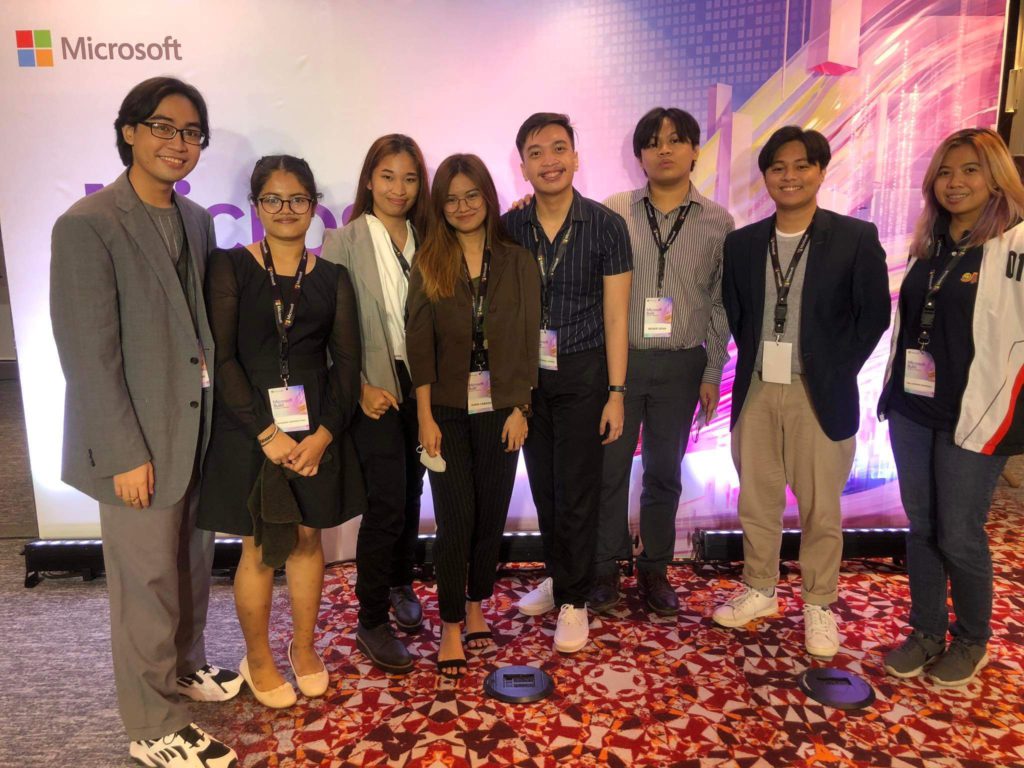 Article by: Angelle Baligod
Photo Credits: APC – MSC
Selected officers of Asia Pacific College-Microsoft Community (APC-MSC) and Junior Philippines Computer Society – APC (JPCS-APC) took part in Microsoft Build PH last September 30, 2022 at One Ayala Building.
Microsoft Build PH is a distinguished international conference by Microsoft that aims to tackle the applications of technology in different industries, empower developers with Microsoft tools, and find innovative solutions for developers.
Participating organizations and community partners were APC Microsoft Community (APC-MSC) and Junior Philippines Computer Society- APC (JPCS-APC). Both organizations had the privilege of inviting students from their organization, namely: APC-MSC: Seth Kendall Munar (President), Jeann Sabado (Vice President), Arvin John Suan (BETA Microsoft Learn Student Ambassador (MLSA), Director for Events and Programs), Jamie Anne Mimay (BETA MLSA, Director for Membership), Reiner Gena (Director for Documentations), Anamika Nepomuceno (Director for Associates Management); and JPCS-APC: Niel Angelo Dela Cruz (President), and Jan Laurene Manrique (Vice President for Internal and External).
Six Microsoft PH speakers discussed various topics to share with the attendees.
"What we (Microsoft) do is empower you to empower the world," said Microsoft Philippines Azure GTM Lead Ann Garcia. Garcia focused her discussion on Microsoft's dedication to the continuous development of tools and connections for developers to help ensure that they are well-equipped to solve the world's challenges with innovative solutions.
Cloud Solution Architect Philip Domingo highlighted the Cloud Developer Environments, often referred to as "a virtual box parallel to a desktop within a desktop." This used the Microsoft Dev Box, an Azure service that provides developers access to ready-to-code, project-specific dev boxes.
Aside from this, he diverted the spotlight to the prominence of Azure and its different services: Azure AI, Azure Cognitive Services, and Azure OpenAI Services, and the importance of "No Code, Low Code" which provides opportunities for leaders to develop their own applications/websites through Microsoft Power Platform even without any knowledge in coding.
Microsoft Valuable Professional for Artificial Intelligence John Paul Ada talked about the importance of Responsible AI; he pointed out the five Standards of Responsible AI: Fairness, Reliability & Safety, Privacy & Security, Inclusiveness, and Transparency & Accountability. Mr. Ada also added some points regarding responsible AI tools like Smart Noise, Counter Fit, and Fair Learn.
Microsoft Valuable Professional for Azure and Developer Technologies Bryan Anthony Garcia shared his personal experiences as the Microsoft MVP for Cloud/Azure. He also stressed the Scalability in the Cloud, the ability of an application to handle the increased workload, and Azure Container Apps, a space where different people outside the organization can access the shared applications.
Before Garcia ended his presentation, he provided a short demonstration of the "PokeDex" website, a compilation of Pokemons from the game. He made use of Azure Container Apps to share it with others.
Lastly, Microsoft PH Experiential Lead – Developers/ IT Pros Zildjian Damesconcluded the seminar with an inspiring message from all the speakers and a retrospection question for the participants:, "What can we build? What does the world need?"
Representatives from APC-MSC and JPCS interacted with other student organizations at the event, such as the Technological Institute of the Philippines – Microsoft Community (TIP-MSC) and other MLSAs who volunteered at the event.