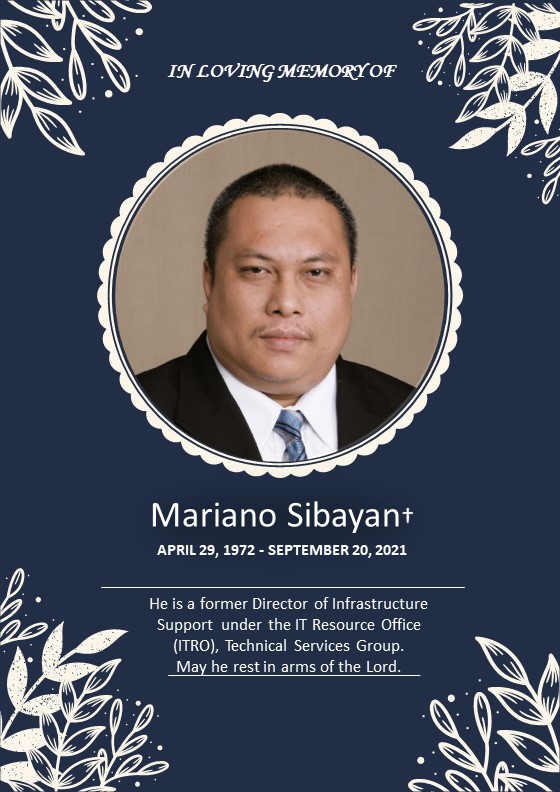 With deep sorrow, we would like to inform the APC Community that Mr. Mariano 'Toto' D. Sibayan, Jr. passed away this morning.
The late Toto was the former Director of Infrastructure Support under the IT Resource Office (ITRO), Technical Services Group. He is known as a person who is willing to extend a helping hand to everyone he would meet. We will best remember him as the zealous caretaker of our computer labs. For him, the computers in the labs and their 101 possible configurations were his responsibility. He had to balance the configuration between the requirements of the teachers who shared the labs and the students who used them. For him, he wasn't simply providing computers. He was providing the teachers and the students a workplace where they could forget about hardware and software and concentrate instead on the algorithms they were writing, the numbers they were crunching or the projects they were doing.
He was also a father-figure to a lot of student-assistants and SoE trainees who worked under him throughout the years, sharing with them not just technology and software but excellent work ethics and winning attitudes that would make them outstanding individuals in their future selves.
On behalf of the entire APC Community, we are extending our prayers to his family and friends. May he rest in the arms of the Lord who formed him from the dust of the earth. May the Lord welcome him with gladness as he joins the angels and all the saints in heaven. May Christ, who was crucified for him, bring him freedom and peace. We also pray for comfort for his family in these times of trials.