How Asia Pacific College Utilizes Microsoft 365 During a Global Pandemic
Asia Pacific College (APC) has been a Microsoft Showcase School in the Philippines since 2015, and ever since I was enrolled in this college, Microsoft 365 has been integrated in their curriculum. When the COVID-19 pandemic hit, APC managed to adapt on how its students can continue learning and organizing student activities.
Students' Online Learning 
APC utilizes the Microsoft Teams as its platform for online learning. We have a "Team" for each of our subjects, and our educator organizes a Teams meeting for our online classes. Whenever our educator has an update, they will just announce it in our Teams. If there are assignments, they are using the assignment feature of Teams so that we can submit our outputs. 
When it comes to group activities and projects, our educators create a channel which serves as a forum that would allow us to collaborate with each other. In addition, we are using features of online Word, PowerPoint, and Excel that allows us to work simultaneously on the same file.
Furthermore, our educators record their lessons before classes begin so that the students who were not present will have a chance to view the recording and catch up with the lessons. 
Microsoft OneNote is also a very great tool not only for the educators but also for students too. The educator uploads the module in our subject or online presentation on each of their lessons in OneNote so the students can easily see and review the learning materials and modules whenever we have quizzes on Microsoft Forms. 
Microsoft 365's integration in our online learning helps us maximize our productivity and study our courses with ease.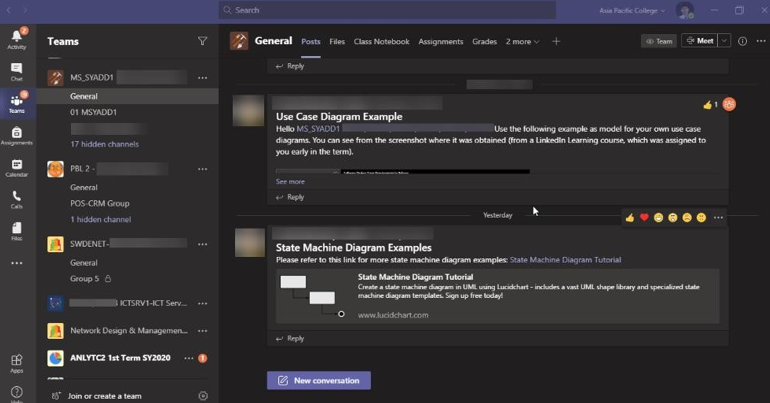 Student Organization Activities 
Despite the pandemic, student organizations still managed to organize events virtually through Microsoft Teams. One of these events was 'Frosh Night', a social event for all freshmen in APC; and the opening of Organization Fair 2020, a week-long celebration organized by the APC Student Activities Office (APC-SAO) and APC Student Organization Association of Regents (APC SOAR), in partnership with APC Speaks and APC – Microsoft Community (APC-MSC).
The Org Fair is an event featuring APC's 28 student organizations, which gives them a platform to showcase their organization and invite new members. Since we are unable to install physical booths because of the pandemic, we used Microsoft Teams' "Channel" feature instead. Each organization has a specific channel, which they can tweak to their own preference or taste.  Through these virtual channels, students who are interested on a certain organization can join an event meeting and learn more about the organization they are planning to join.
Despite being held on a virtual environment, APC's students and student leaders had fun throughout the week-long celebration of this year's Organization Fair.