The emergence of various digital technologies and new business models led to transformations called digital disruptions, which created distinct impacts in the value of existing products, services, government, and businesses. In this light, the faculty members in APC always ensure that they are equipped with the current trends, skills, and knowledge to provide appropriate education and training in preparing students with future-ready skills.
One of these important skills in the age of disruption is in the field of Business Intelligence and Data Analytics. It is very timely that Carnegie Mellon University – Australia (CMU-A) opened its doors to offer a Short Course and an Advanced Certificate in Business Intelligence and Data Analytics (BIDA)."
What is BIDA?
BIDA, or Business Intelligence and Data Analytics, is  a certificate program offered through a partnership between Carnegie Mellon University – Australia and Asia Pacific College. It offers an opportunity to Asia Pacific College and National University faculty members to hone their skills in unstructured and structured data analytics and machine learning.
CMU-A describes the program as "ideal for mid-career professionals and is designed to help meet the expanding needs for data scientists who are skilled in the utilization of a unique blend of science, art and business."
Asia Pacific College's faculty joined the program in 2019, at CMU-A in Adelaide, Australia and continued half of the program in the Philippines via virtual classes, with Computer Engineering Director Mr. Serge Peruda and School of Management (SoM) Executive Director Mr. Manny Magbuhat finishing the first part of the BIDA program.
Ms. Rhea-Luz Valbuena, Executive Director of the School of Computing and Information Technologies (SoCIT), continued to the advanced  courses and  recently graduated attaining the Advanced Certificate in BIDA last June 2020 while two of Asia Pacific College faculty members, Mr. Joe Gene Quesada and Engr. Einstein Yong, are taking the BIDA Short Course from February 24 to August 10.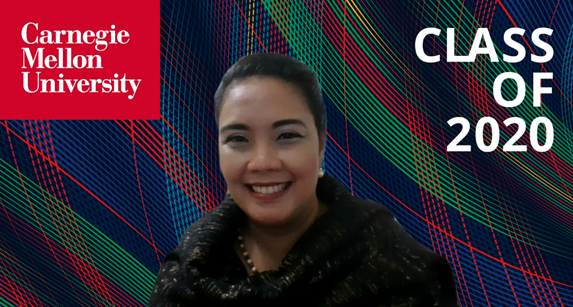 BIDA: Not a Walk in the Park
"It was with God's grace that I passed the rigorous requirements of the International university, and I was able to avail the 100% scholarship from CMU-A itself," SoCIT Executive Director Rhea-Luz Valbuena notes as she shared how she applied for the program.
However, taking the advanced certificate program was not a walk in the park for her due to the rigorous and intensive lessons on computer science and information technology. "CMU-A has been known to provide the hardest classes," she adds.
Taking the program was also a challenge due to her current position as the Executive Director for SoCIT. "I am studying on a part-time basis, and I still have responsibilities at work, both as administrator and faculty. Majority of my classmates are full-time students, so they have full focus on their lessons."
"It's a big challenge as I had to learn new methods and tools that I wasn't familiar with. Given that it was an intensive course, I had to put in extra effort to learn given a very limited time frame," Mr. Magbuhat notes while recalling his experiences in BIDA's Short Course.
"Academically, the program track is very tight as the courses are compressed in two weeks, which equates to heavier course loads. I have also experienced culture shock because it is my first time to be abroad," Mr. Peruda recalls as he shares his challenges in his three-month full-time study in CMU-A's campus.
School of Management Executive Director Mr. Manny Magbuhat (left) and Computer Engineering Director Mr. Serge Peruda (right) finished the first part of the BIDA program in 2019.
Mr. Quesada, who is currently taking the Short Course in BIDA, finds the course as a challenging experience. "Due to COVID-19, there are some logistical challenges in delivering the material, as there is no physical person-to-person interaction. So now, all the lectures and interactions are done online primarily using Zoom and e-mail."
Engr. Yong also shares the same sentiments as the lack of physical interaction among professors and classmates makes the course challenging. "We had a few weeks of classes conducted in APC, but with the pandemic, classes shifted online. It is quite difficult to have a hands-on exercise while listening to the professor using one computer monitor."
A Door to New Learnings
Despite challenges faced by APC faculty such as busy schedules and logistical concerns, CMU-A's BIDA enhanced its students' expertise in analytics and machine learning.
"Business Intelligence, Data Analytics, and Machine Learning are all new topics to me, and I feel happy and privileged to have been selected by APC to attend this program. I am learning about these cutting-edge topics from top professors in CMU-A," Mr. Quesada says as he shares his enjoyable experience in the short course.
Engr. Yong is also proud to have joined the program as he is introduced to new topics such as Artificial Intelligence and Analytics for Digital Transformation, Data Management, Policy and Regulation for the 4th Industrial Revolution, and Managing Analytics Projects and Data Governance.
On the other hand, Mr. Peruda says that data analytics can also be applied in engineering through research problem assessment and validation. "Business intelligence and analytics is not just a technological upgrade in the business world. It is now becoming a must," Serge adds.
BIDA: Enhancing APC's Professional and Academic Offerings
With this Professional Certification, APC's professional and academic offerings on artificial intelligence are further enhanced. As a CMU-A partner, APC will be integrating the Business and Data Analytics (BIDA) courses in both the undergraduate and graduate programs, ensuring high-caliber education in the field of artificial intelligence, business intelligence, and data analytics.
Thanks to his learnings in the BIDA Short Course, Mr. Magbuhat further improved their curriculum. "Students are now using these tools to analyze data sets and support decision making. We are also strengthening the statistical skills of the students taking the business analytics specialization by integrating statistics modules in the introduction course," he says.
Mr. Peruda, on the other hand, managed to understand his student's performance better. "I can see the bigger picture as what the students need, and push me to innovate my teaching strategies," Serge says as he notes how his training on data assessment, synthesis, and validation improved his teaching methodologies.
On the other hand, Engr. Yong plans to develop an analytics forecasting project for APC student enrollment after taking the short course while Mr. Quesada is looking forward to complete and implement a capstone project with the Department of Information and Communications Technology (DICT).
Meanwhile, Ms. Valbuena is planning to further develop the School's curricula and programs. "Enhancing APC's analytics track is definitely the first one on the list," she says.
Ms. Valbuena also adds that the program is a great avenue for exchanging ideas, allowing a deeper understanding of perspectives of various countries about the adaptation of analytics and use of machine learning. "This experience helped me realize that Filipinos can excel and work together with the best of the minds from various cultures."
Despite the challenges from studying part-time while fulfilling her duties as an Executive Director, Ms. Valbuena managed to push through, maintained the required Grade Point Average, and graduated from the advanced certificate program. "Whenever I feel like giving up, I always remind myself that there are people in APC who believe in me and who have invested a lot to send me to this program, and most importantly, there are people at home (my daughters) that I want to show how hard work pays off."
"The harder you work for a goal, the sweeter is the feeling of success," — Rhea Valbuena