Asia Pacific College and Spring Valley Tech Corp. signed a Memorandum of Agreement through a virtual conference last June 17, 2020, offering Specialized Professional Tracks on top skill sets required in the industry today.
The partnership, which was highlighted in a live webinar entitled "Reinventing Education: Pioneering Advancements for the New Industry Landscape", aims to meet the immediate requirements of the industry through its offerings on IT analytics, CyberSecurity, CyberForensics, Internet of Things (IoT), Cloud Computing and Virtualization, Mobile Programming and Internet Technologies, Operating Systems, Games and Multimedia Computing, and Robotic Process Automation.
Spring Valley Tech Founder and President Jonathan De Luzuriaga believes that the partnership will address the gap between the industry and academe through course offerings designed to employ both theoretical approach and practical application in learning through coordination with industry partners.
"We could not find a better partner than Asia Pacific College because it has always been our intention that as we put up facilities that could represent the Silicon Valley of the Philippines, that we could count on a very strong academic presence, and that particular gap and void has been filled by the partnership that we are establishing with Asia Pacific College," Mr. De Luzuriaga notes during the conference.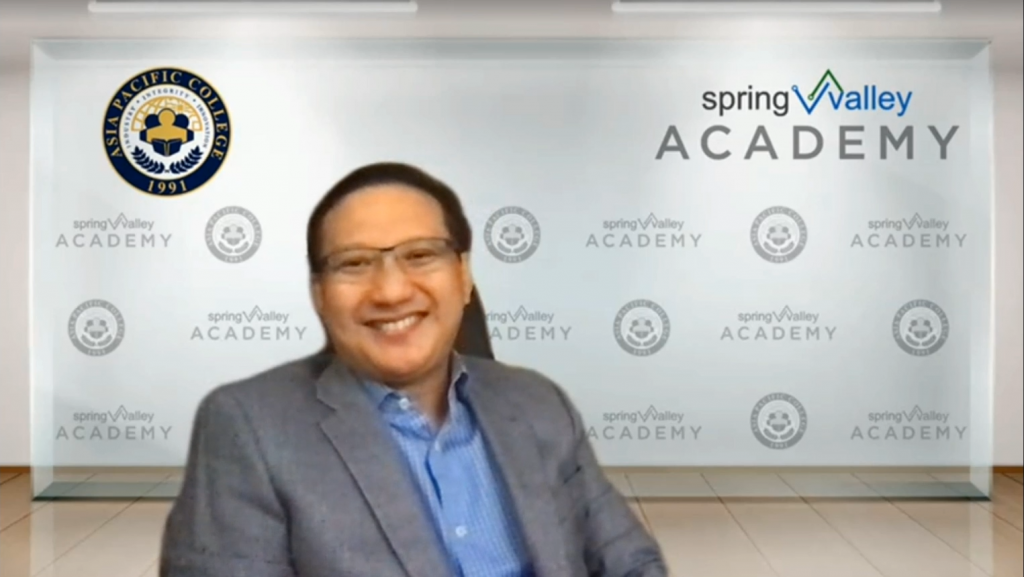 Spring Valley Tech Chairman Danilo Sebastian Reyes also believes that the partnership would help to ensure that students are equipped with the necessary skills to join the competitive landscape of information technology.
"This is where education is critical in bridging these gaps, ensuring that we have ready and able set of talents to enter the workforce," Mr. Reyes notes. "Even prior to COVID, Spring Valley Tech and Asia Pacific College teams have been in constant communication to find ways and means to address these challenges in bridging the gaps.
Mr. Ernesto "Boogie" Boydon, the President of the Philippine Society of IT Educators and also the former Computer Science Director in Asia Pacific College, believes that the partnership would help to make Asia Pacific College the "gateway of IT education in the Philippines."
On the other hand, Asia Pacific College President Dr. Tata Medado shares that the partnership would help to fulfill the goal of the institution to develop the supply of the right talents for the jobs of tomorrow.
"This is about intensifying our commitment to our vision – enhance program offerings, catching the opportunities of industry exposure and communities of practice, and expanding learning opportunities using not only technology but a learning mindset," Dr. Medado notes.