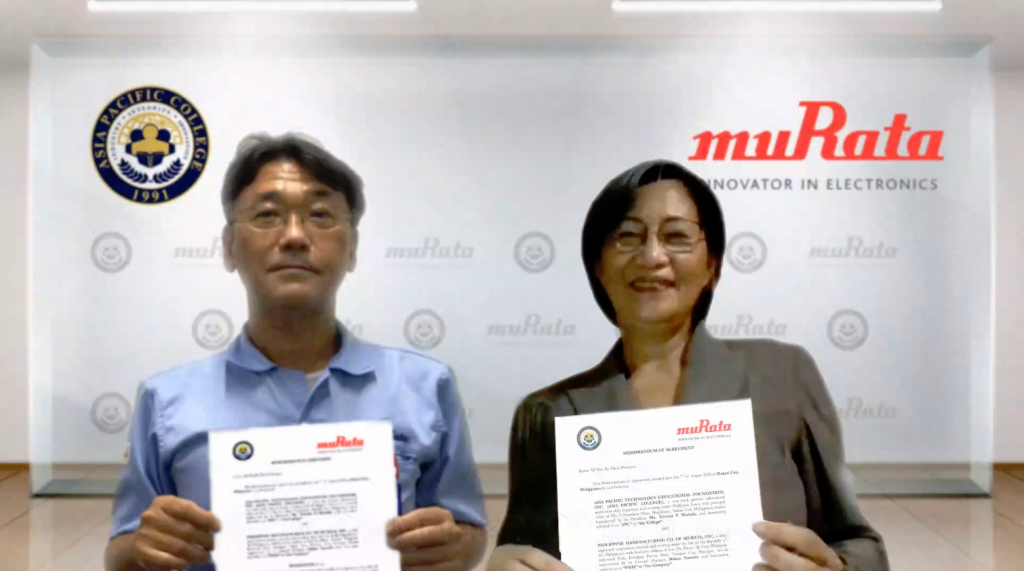 Asia Pacific College (APC and Philippine Manufacturing Company of Murata, Inc. (PMM) recently signed a Memorandum of Agreement (MOA) through a virtual conference last August 7, 2020.
The partnership enables various programs, projects, and activities that would benefit both APC and PMM such as industry-led project development, faculty curriculum enhancement, internship placement, and job opportunities.
PMM's factory was established in 2012, and is currently the "largest production site in Asia capable of producing a variety of components."
PMM President Mr. Masayoshi Koda expressed his excitement for the partnership during the virtual conference. "I hope that APC and Murata will strengthen our corporate relationship for the success of each other," Mr. Koda notes.
On the other hand, APC President Dr. Teresita Medado is looking forward to the partnership as well. "I think Murata will find it very pleasing that we also, in our core values, we also mention what you had mentioned as your own values which are innovation, trustworthiness, and prosperity. There is such synergy to say that APC has founded its core values in innovation, integrity, and industry. It's such an unbelievable match," Dr. Medado notes.
Despite setbacks brought upon by the COVID-19 pandemic, Asia Pacific College and Philippine Manufacturing Company of Murata, Inc. are looking forward to upcoming programs and projects that would develop not only the manufacturing industry but also the skills and competencies of its students.