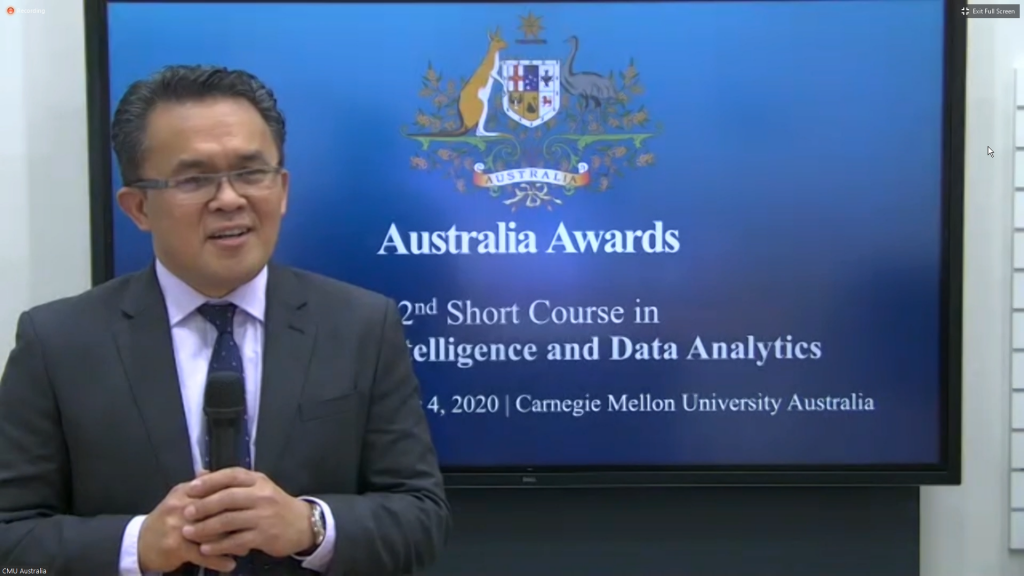 Asia Pacific College and Carnegie Mellon University-Australia recently concluded its 2nd Business Intelligence and Data Analytics Short Course through an online web conference last September 4, 2020.
Ten capstone projects were presented during the closing program of the 2nd BIDA Short Course, including "Visual Analytics System for Transparency" by Asia Pacific College faculty Joe Gene Quesada and Josephine Eslabon from the Department of Information and Communications technology.
Along with two Asia Pacific College and two National University faculty members, over 31 representatives from various government agencies such as the Civil Service Commission (CSC), Department of Budget and Management (DBM), Department of Information and Communications Technology (DICT), Department of Interior and Local Government (DILG), Department of Trade and Industry (DTI), Department of Finance (DOF), Department of Transportation (DOTr), Department of Public Works and Highways (DPWH), National Economic Development Authority (NEDA), as well as the Philippine Statistics Agency (PSA) completed the 28-week short course.
Asia Pacific College hosted the short course in its campus in February and moved to remote delivery from Australia in March due to the COVID-19 pandemic.
"I express my sincerest appreciation to Dr. Medado who has been a terrific partner of CMU, Carnegie Mellon University-Australia Head Dr. Emil P. Bolongaita notes during his keynote speech, describing how Asia Pacific College transformed some of its facilities to provide a 'CMU-A touch' to the classrooms.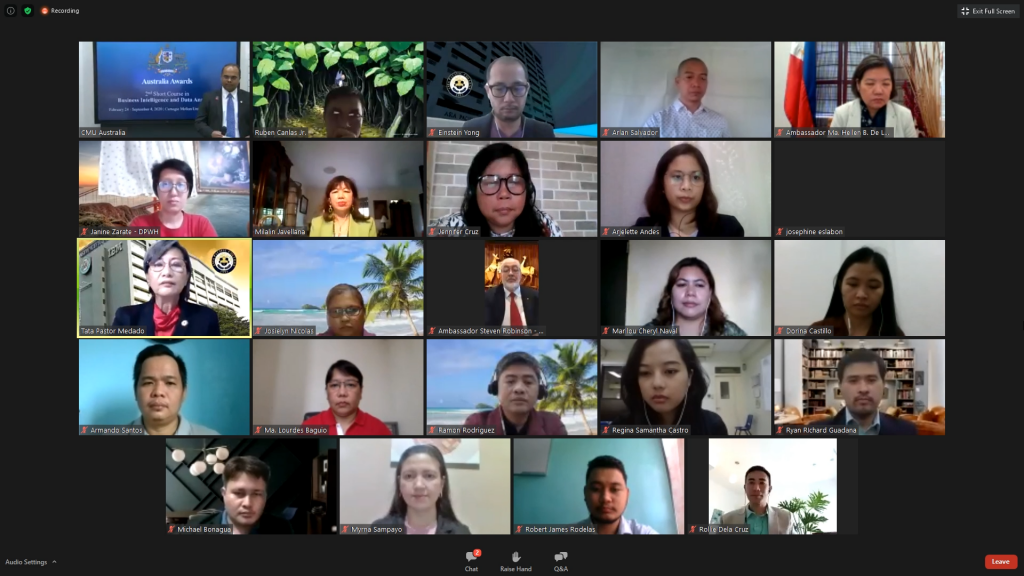 Australia Awards and Alumni Engagement Program-Philippines (AAAEP-P) Program Director Milalin Javellana challenged the course graduates to see the value of their learning, acquire skills, and seek opportunities to apply their learnings.
"The Australia Awards responded to the needs of the partner organizations to make sure that we are responsive in terms of the emerging needs of your organization and the emerging needs of competencies that are required to survive and to recover and to reimagine the new normal," Ms. Javellana notes.
During the program, Philippine Ambassador to Australia Hellen De La Vega also notes how the short course could help the country's post-pandemic environment. "The government needs people like you who would be able to source, process, and analyze data and optimize their benefits for the rest of the country," Ms. De La Vega says.
During his keynote speech, Dr. Emil Bolongaita also described the importance of mind-boggling data, or "MBD", which paved the way to the growth of cloud computing, acceleration of smartphones, and the spread and deepening of fourth industrial revolution technologies. Dr. Bolongaita also adds how digital maturity is critical to government effectiveness in the development of good public policies and the delivery of public services in the era of MBD.
"Digital maturity means growing from the level of simply being reactive to problems and issues to being integrated and optimizing in the response to these problems and issues. Digital maturity in government requires digital transformation and data analytics, both of which have been the focus of this second short course in Business Intelligence and Data Analytics," he adds.
As the Philippines braces for the post-pandemic setup, Finance Undersecretary Antonette Tiongko noted how digital technology can aid our society during the pandemic, and challenged private and public organizations to think of innovative ways to cope with the new normal, and commended the capstone projects' relevance to today's issues.
"The projects showcased today proved that there is indeed hope and there is much that can be done and we can all be ready to shift to the new normal backed by digital technology," Ms. Tiongko concludes.