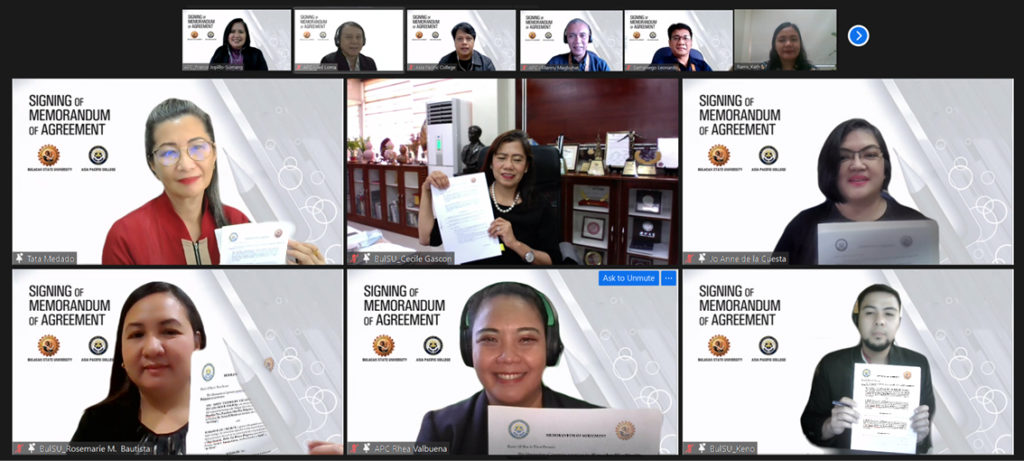 Representatives of Asia Pacific College and Bulacan State University pose for a photograph during a Memorandum of Agreement (MOA) signing between the two institutions last October 27, 2021 through Zoom.
Asia Pacific College (APC) and Bulacan State University (BulSU) recently signed a Memorandum of Agreement last October 27, 2021 through Zoom.
The partnership and collaboration between the two academic institutions include various opportunities for both schools such as promotion of educational exchange, faculty training and development, and extension programs.
Bulacan State University President Dr. Cecilia Gascon shared how the partnership will pave the way for APC and BulSU to achieve both institutions' goals.
"This will enable and empower innovative and necessary online learning, research and development, that will not only foster competence-centered curricula, but also to set in motion and establish educational system that thrives in a 21st-century society," Dr. Gascon notes.
APC President Dr. Tata Medado and BulSU President Dr. Cecilia Gascon signed the agreement, witnessed by Professional Programs Executive Director Ms. Jo Anne de la Cuesta and School of Computing and Information Technologies (SoCIT) Executive Director Ms. Rhea-Luz Valbuena of APC; and BulSU Executive Vice President Dr. Teody San Andres (represented by BSIT Department Head Dr. Rosemarie Bautista) and College of Information and Communications Technology Dean Dr. Keno Piad of BulSU.
Dr. Tata Medado highlighted how the partnership with Bulacan State University will bring forth the essence of collaboration to bring each other to another level of innovation and excellence.
"We are giving our best to you in this collaboration, because we believe that only through these we can beat this pandemic because we are together in collaborating for excellence," Dr. Tata says.
"We know that excellence in instruction and excellence in innovating the way we teach and learn, much more the community engagement that we have been giving to your community, are the stars. They are the heroic acts of your organization and we would like to join you in that fight for better education in Bulacan State University," she further adds.